float glass
Ripple-free smooth surface, with good perspective; Specifications done with flexibility, reducing losses of slices; can provide the levels of various materials processing. Tinted float glass can enhance absorption and re-radiation function, reduce heat penetrating radiation and the energy saving; increase buildings exterior color changes, creating a higher value sense; can provide the levels of various materials processing.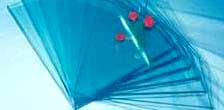 float glass
Application Range of float glass:
Float glass used in construction, mirror, furniture, decoration, optical equipment, vehicles, and so on.
Introduction of product line:
Float glass is formed through glass liquor in a tin trough filled with the protective gas (N2 and H2) . Melted Glass continuously flows from melting furnaces and floats on the surface of the tin with relatively bigger density. By the effects of gravity and surface tension, liquid glass spreads on the surface of tin and form the smooth finish, after sclerosis and cooling, was led onto rollers. Roller turning off the glass out of tin bath into annealing furnace for annealing, after annealed and cut, the float glass products was formed.