Low-Emissivity Coating Glass
Low emissivity coating glasses are manufactured through coating several layer of metal oxide films on high quality SGG transparent float glasses or tint glasses by the means of vacuum magnetism control and cathodic sputtering. Through different kinds of combination of metal oxide films, low emissivity coating glass is of good selection towards spectrum. It is able to received of great deal of near infrared and visible light to assure the brightness indoors. It can also prevent medium infrared an far infrared produced by heat source radiation. Thus, in hot summer, it is able to prevent the slolar radiation heat from entering the buildings to assure cool indoors; and in cold in winter, it is able to made the radiation heat of air-conditioners and warming apparatus reflected indoors, but not get out of the buildings through paaing common glasses. Therefore, its good heat insulation performance can save the energy consumption of buildings greatly.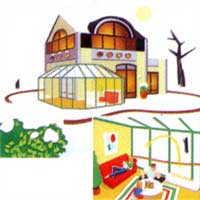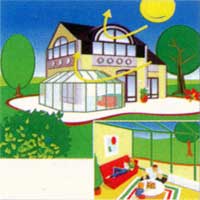 Winter: outer cold and inner warm
Summer: outer hot and inner cool
Note: In the engineering research field of low emissivity coating glass, French Saint-gobain Group is a global authority in the world today, Saint-gobain Group was established in France in 1665. At present, it has become the largest manufacture of building materials. In the industry of glass, it ranks the third place globally. Besides, Saint-gobain Group is one of the top 500 powerful enterprises < it was ranked in the 105th place in 2005>
advantages of Low-Emissivity Coating Glass:
Most of the original glass sheets of the low emissivity coating glasses provided by our company to the customers are from Saint-gobain Group. At present, the low emissivity products of our company include SGG PLANITHERM new-generation low emissivity glasses and SGG COOL-LITE KT low emissivity solar control double-function glasses.
Compared with traditional low emissivity coated glasses, SGG PLANITHERM and SGG COOL-LITE KT have the following advantages:
1. Through different combination of various films, they have more prominent thermal insulation performances and are able to realized warm in winter and cool in summer;
2. The films are firm, able to be bent and toughened. Both GSS PLANITHERM and SGG COOL-LITE KT are off-line low emissivity glasses. Due to their peculiar coating technology, the low emissivity glass sheets can be transported to the glass production base of our company for deep processing of flat toughening, bent toughening, hollowing and doubling to ensure rapid supply and services;
3. Suitable permeation rate of visible light is able to keep the indoors bright and comfortable, not dizzy in summer and limpid in winter;
4. Very low rate of glister is able to reduce light pollution.
Besides, in order to satisfy the requirement of different customers, our company also sells on-line low emissivity glasses.