patterned glass
Pattern glass is a kind of one-sided or double-sided surface with a pattern of uneven pavement translucent decorative Glass manufactured by special compression process, its unique decorative function go through the lighting on one hand, on the other hand, full lighting can be effectively limited and prevented a clear perspective, the hidden play good effect. Our company is the firstly who introduces German advanced technology and equipment, and automated procedures for the building of China's highest, the largest production scale, optimal product quality embossed glass production base.
The basic physical and chemical properties of patterned glass is the same with regular flat glasses, just different from the optical transmittance of opaque, with the characteristics of softening the lighting, and has the role of guarding the settlement of private and certain decorative effect.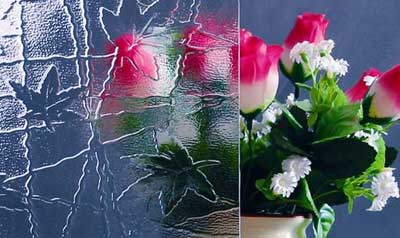 patterned glass
Dimensions of patterned glass:
Thickness: 2.2-12mm (Note:Not all pattern suit for all thickness)
Standard Size:
1500X2000mm 1219X2134mm
1372X2134mm 1524X2134mm
1676X2134mm 1829X2134mm
1829X2438mm 2134X2438mm
Special sizes could be customized as per the customers' requirement.
Features of patterned glass:
1. The design of colorful flowers and decorative effects have originality: Obscurity quiet charm or lively; or Simple and elegant; or were delighted.
2. Decorations have strong three-dimensional sense, the pattern never fade.
3. The products could be reprocessed by cutting, edge polishing, drilling and tempering, laminating, silkscreen printing, etc.
50 patterns of patterned glass:
Application Range of patterned glass:
Patterned glass applicable to the construction of internal partitions, doors and toilet, as well as various location of sightseeing block.
Patterned glass is applicable to various public and private establishments who take both lighting and hiding, such as office conference rooms, meeting rooms, hotels, hospitals, sports grounds, gymnasium, bathroom, toilet, and so on. Also, it is widely used as t pan safety glass, furniture tops, lamps and shelf material.
Introduction of product line:
Patterned glass, also named embossed and knurling glass, which is a kind of flat glass manufactured by calendering molding through the manufacturing process of single and double roller. Single roller method is to pour liquid glass onto calendering table made of cast steel or cast iron. Whereas a pattern, the roller roll up on the glass surface, the embossed glass then to be sent to annealing furnace. Twin-roll production of embossed glass manufacturing is divided into two semi-continuous and continuous rolling process, the liquid glass goes through the water-cooled twin roller, and move forward with roll into the annealing furnace, generally there's convex pattern on the surface of the down roll, the up roll is for polishing, thus a single pattern embossed glass are formed in this way.