Insulating Glass
The energy bottleneck has been more and more obviously reflected in the macro national economy system. The energy conservation of buildings is an important topic today and afterwards. Study shows:Over 30% energy inside the buildings flows away from the doors and windows; therefore, to study the energy conservation of doors, windows and glass curtain walls is an important topic in the development of glass industry.
Glass doors and windows are the primary means of communication both inside and outside buildings, lighting, viewing, decoration is a basic requirement for the glasses, energy saving and environmental protection is the further demands on the glass doors, and lead to increasing community. If we do not open the windows when the convection of air, in a sealed room the Indoor and Outdoor majority of the heat exchange goes through the glass window. The large indoor and outdoor heat exchange means that the large influx heat no needless to the summer indoors flood in indoors; in winter there's a lot of valuable energy flowing outside. This will enable both indoor climate severe environmental degradation, and air-conditioning, heating energy consumption increased substantially. Insulating glass is the excellent solution to the issue, in line with the energy-saving, environmental protection, comfort and creativity of the world.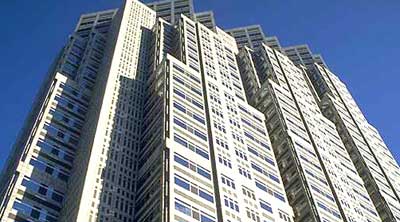 Insulating glass is manufactured through sealing two or more float glasses with high-strength air-tightness composite viscose. There are aluminum alloy partitions filled with drying agents between the sheet glasses, which makes the air inside the glasses very dry, butyl rubber seal is used as the first line, the second seal use glass or plastic polysulfide adhesive on the basis of the used framework of the glasses. The space between the glass and glass is isolated from the outside world by sealant, there is a special gas or air, insulating glass has good performance of heat insulation and noise insulation.
Common insulating glass is manufactured through sealing two or more float glasses with high-strength air-tightness composite viscose. There are aluminum alloy partitions filled with drying agents between the sheet glasses, which makes the air inside the glasses very dry, reducing the thermal conductivity, preventing the losses of heat transmission and realizing the effect of energy conservation.
Insulating glasses filled with special gas: By the process of charging vertically and rapidly argon gas, krypton gas and other inert gases are charged into the hollow glass. In this way, the thermal conductivity is effectively reduced; and the water-tight and air-tight and air-tightness of glass clearance as well as the useful life hollow glass are ensured.
Insulated glass system is a kind of full hollow glass curtain system which became popular all over the world in 1990s. It began to be used in top-grade buildings in our country in the middle of 1990s. The point-supporting glass curtain wall without frames makes the building have very high light permeability and best visual effect.
Insulated glass system has higher requirements for enterprises engaging in deep processing of glasses. Our company has rich experiences in manufacturing of insulated glass. UP until now, its products have been adopted many large projects in Wuhan, such as Optical Valley Core Electronic Plaza, International Plaza and Kanglong Taizi Gardon Hotel, etc.
American-bar insulating: In order to reach better decoration effect, the designer often adopts American-bar hollow glasses, that is to say, the spacing bars with different colors and shapes are embedded in the hollow glasses. The bars can be fire-resistant macromolecule plastics or colorful aluminum bars.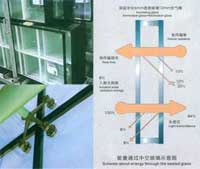 Low-E insulating glass filled with insert gas: The film of LOW-E glass is able to block the heat radiation effectively. The low-E hollow glass filled with insert gas can further reduce the direct transmission of heat energy and reduce the thermal transmission coefficient of glasses greatly. For example, the U value ofcommon hollow glass with same specification is 3.0 W/m².K, reducing 67%.
To manufacture LOW-E insulating glass, the glass deep processing enterprises must satisfy every stringent requirements. We execute the European standards in the processes of cutting, grinding, cleaning, drying, toughening, film removing of edges, bending of aluminum division bar and automatically charging molecular sieve and hollowing. By now, it has passed the strict manufacturing assessment system and is now regularly accepting the supervision and guidance of technical expert of European known enterprise.
The Insulating glasses of ours combined through new-generation LOW-E glass planitherm and SGG cool-lite kt of European standard have superb heat insulation performances and classic appearances. The have applied in many projects in Wuhan, such as research and development center of DONGFENG Honda, library of Navy University of Engineering, Jiulongcang Times Plaza, Wuhan New World Center and office building of Wuchang Local Taxation Bureau, etc.
Besides, in order to reach different effects, hollow glasses can also be combined with coated glasses, toughened glasses and laminated glasses to form various composite products.
| | | |
| --- | --- | --- |
| | | |
| Aluminum division bar bending equipment | Advanced de-ion purified water treatment system | Molecular sieve charging equipment |
insulating glass features :
1.Good insulation properties (K Value for ordinary insulating glass (K= thermal conductivity) is up to 3.0 and 5.8 for monolayer glass) , can largely cut energy consumption.
2.Low moisture permeability, will keep the indoor temperature and to avoid the glass frosting.
3.Dew point of insulating glass is up to -50 ° C, can reduce outside noise of 30 dB.
4.Good anti-aging properties, the usage life will be more than 10 years.

dimensions of insulating glass:
Max. Size: 2500 MM X 3600 MM
Min. Size: 300 MM X 300 MM
Thickness of aluminum frame:4 MM, 9MM, 12MM, 16MM ~ 19 MM
Thickness of insulating glass: 3MM ~ 19MM.
type of insulating glass:
Ordinary transparent flat insulating glass, various coating insulating glass, tempered insulating glass, glazing tempered insulating glass, laminated insulating tempered laminated insulating glasses, parallelogram insulating glass, as well as various arc insulating glass.
usage range of insulating glass:
1. The location of dry, noise and heat insulation, office building, up-market residential, as well as car use glasses.
2. Window and door use for cold region.
3. The location of Maintaining constant temperature and humidity
Quality Control: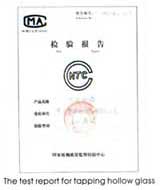 Conformity to GB/T11944-2002 " the National Standard of Glass"
In line with BS5917 UK Standard
Production Ability of insulating glass:
The company imported the top grade production line of insolating glass in Austria.

Automaict production line of insolating glass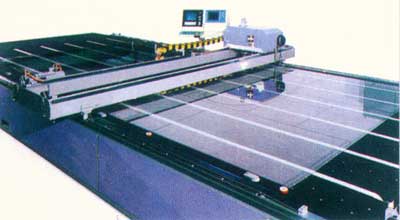 Full automatic cutting and film-removing equipment