Marine Flame-proof Glass
---
Electrical Heated Glass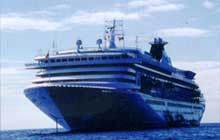 Introduction of Electrical Heated Glass:
The electrical heated glass is made by bonding two or more pieces of tempered glass with PVB or special film adhesive with heating elements between the film adhesive and glass.When powering on, the heating elements will produce heat to increase the temperature of glass.It can comply with the Standard GB14681-2006.It mainly applies to the side scuttles and flight decks of various vehicles and ships,glass screen of cars and other places with special requirements.
Our company provides two kinds heated glass. One is heated by linear electricity, the other is heated by curve electricity. The latter produced by imported production line can solve the defect of "slit of light" which is caused by linear electricity heated glass.The curve electricity heated glass has reached the domestic advanced level.
Product Performance of Electrical Heated Glass:
1.Frost melting function:after powering on,the surface temperature of glass will rise (normally 35-40℃),which will keep above the ambient dew point,thus the forst and condensation will not occur on the surface of glass.
2.Good optical property:use conductive fiber and conductive film as heating medium to ensure its good light transmit-tance and anti-distortion performance,which will make the drive observe objects clearly and truly through the glass.
3.Good uitraviolet irradiation resistance:the glass has high ultraviolet absorbing ability,and can prevent the ultraviolet ray entering navigation room effectively,thus to reduce the harm to the drive and inside facilities caused by uitraviolet ray.
4.Safety:this glass is formed by compounding organic and inorganic materials,and it will keep integral after broken, and can avoid breaking down,thus it has excellent safety.
| | | | |
| --- | --- | --- | --- |
| Model | Thickness | Remarks | Size range |
| DXDJW-01 | 12mm-40mm | KSD temperature-controlled box | 2000-3600 |
| DXDJW-02 | 12mm-40mm | NTC/TTF103-10K | 2000-3600 |
| DXDJW-03 | 12mm-40mm | NTC/MF111-2-5.1k | 2000-3600 |
| DXDJW-04 | 12mm-40mm | PTC/PT100 | 2000-3600 |
| DXDJW-05 | 12mm-40mm | Junction Box | 2000-3600 |
| DXDJW-06 | 12mm-40mm | Curved | 2000-3600 |
Product Picture of Electrical Heated Glass:
| | |
| --- | --- |
| | |
| Electrical Heated Glass | Electrical Heated Glass |
Product Brief Introduction
Dexing is dedicated to producing customized and specified tempered solar ultra-clear glass.The tempered solar ultra-clear glass obtains stronger, safer, flatter and better transmittance properties. Furthermore, effectively protects solar cell against windy ,frosty, snowy weather, acidic corrosion.
Thickness:2.5mm~10mm
Size: Max:2250mm×3300mm
Min:150mm×150mm
Quality Standard: sunlight transmission≧91.4% tempered glass is up to GB15763.2-2005
Packing :wooden pallet and canton with paper separate the glass